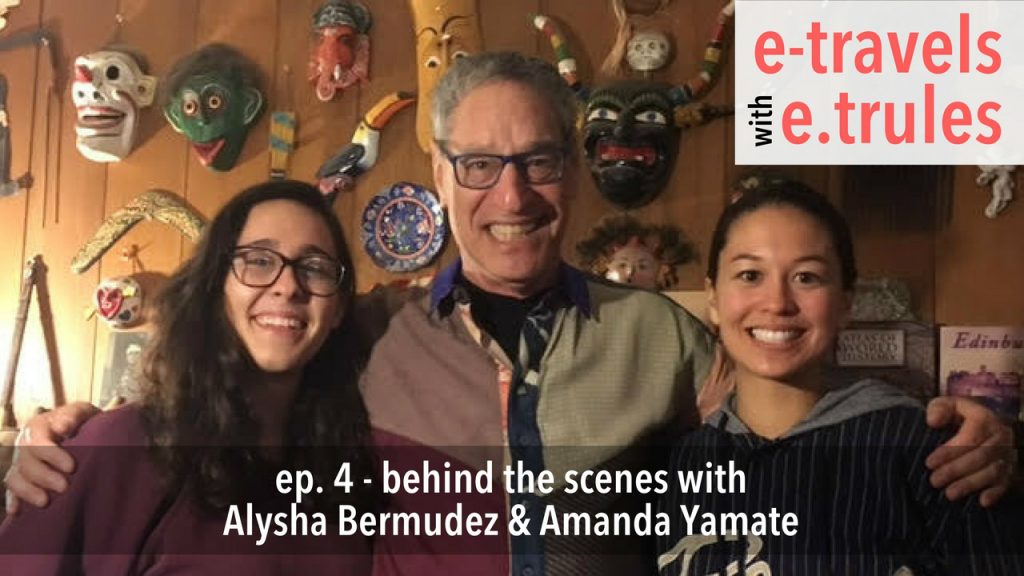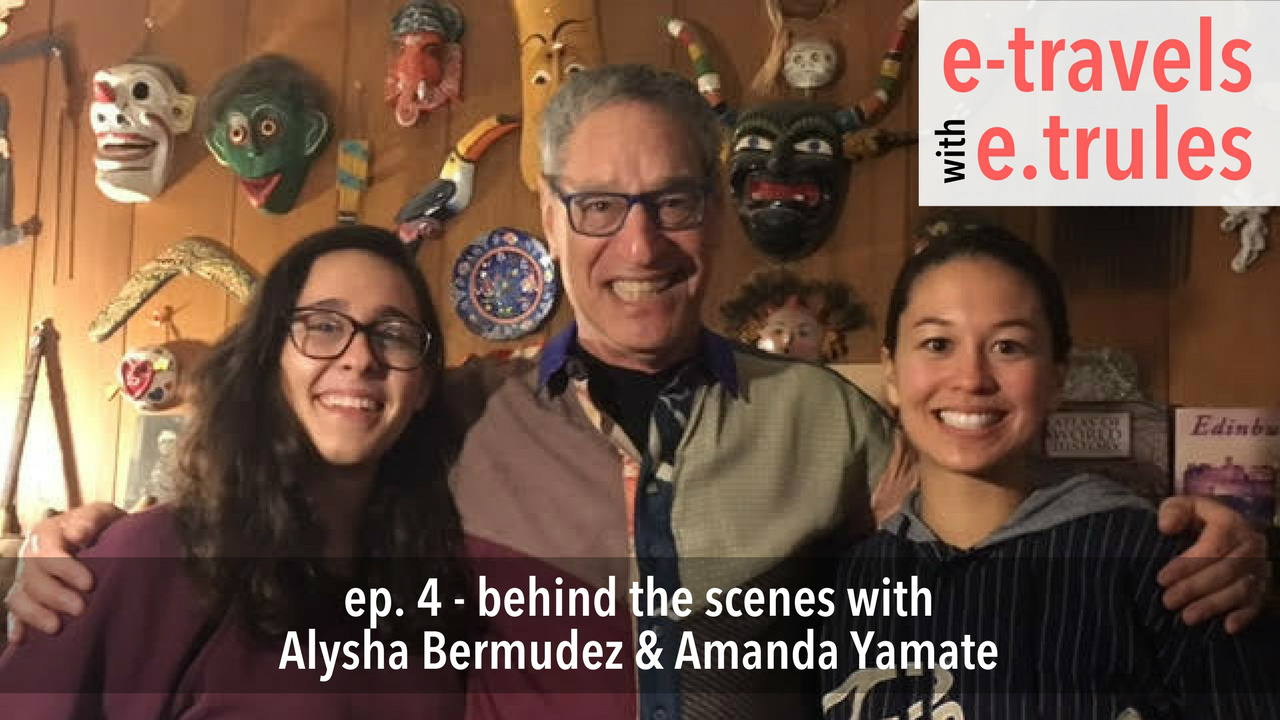 Listen Now
Who's the Who?
Welcome to the 2nd "Behind the Scenes" episode of "e-travels with e. trules", a twice a month feature of the podcast, where I will be speaking to friends, colleagues, fellow podcasters, and travelers around the world…. in between my monthly scripted shows.
My guests this time are my 2 trusty and talented production colleagues, Alysha Bermudez, our imaginative and immersive sound designer, and Amanda Yamate, our composer who creates music tapestries from all over the world. Both are college students well on their way to professional careers. Alysha is in the Sound Design program at USC and Amanda is in the Film Scoring Program at Cal State Northridge.
We work in the studio of USC's Sound Design Program on Jefferson and McClintock in South Central LA, usually early on Saturday mornings, and although we work quite hard and meticulously, we also usually also, have a lot of fun. Hear about the technique of scoring a podcast, who and what inspires them, how they "hear" the world. And listen to another "Trules Travel Quiz".
Enjoy and Happy Trails…..
What We Covered
Tweetables
Support the Podcast
Please subscribe, rate, and review the Podcast on iTunes, by clicking the iTunes logo on the top right of this page. It really helps establish the podcast with Apple. Thanks so much!
Any trouble navigating iTunes? Please go HERE for an easy-to follow VIDEO.
As you might imagine, putting on a biweekly podcast of this caliber, with original music and sound design, really depends on the support of our community of listeners. If you feel so inclined, or you know anybody who would like to support the podcast, we would sincerely appreciate it. Here is the link to donate.
And contact Trules with any questions or comments, and to ask to join him on "Behind the Scenes".
Additional Credits
Sound design by Alysha Bermudez.
Music composed by Amanda Yamate.
Produced by Harry Duran at FullCast.
Supported by a USC Capstone Grant, with special thanks to Professor Phil Allen, Director of the Sound Design Program at USC's School of Dramatic Arts.