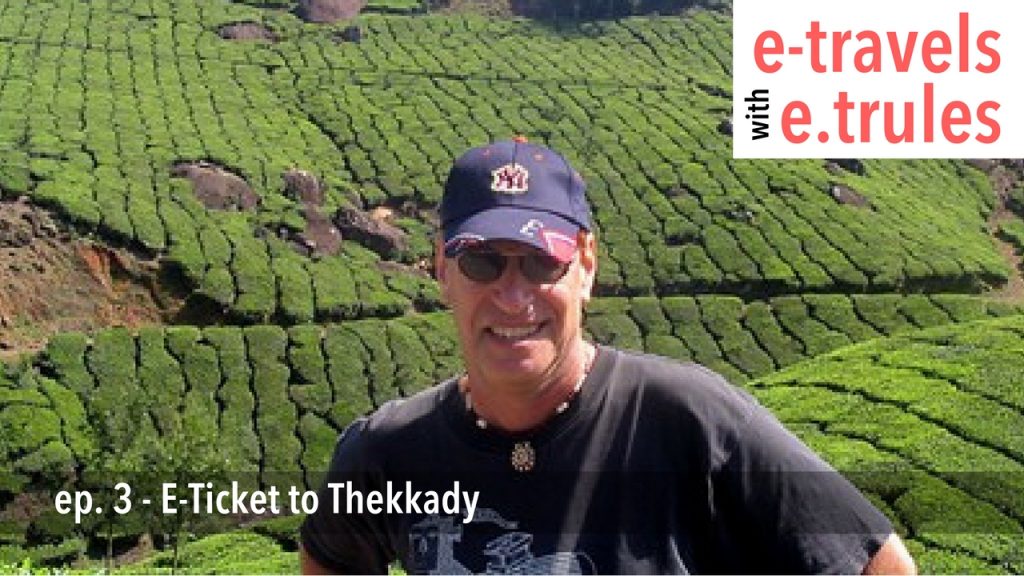 Listen Now
Where's the Where?
June, 2006. Trules has arrived in Mumbai on the day that 5 bombs have exploded in 5 different train stations in the financial hub, but still beggared, megalopolis of the sub-continent. He heads southeast, up into the mountainous tea plantations of Munnar, high in the Western Ghats of the province of green, green Kerala.
There he takes a terrifyingly third world bus ride, up into the cloud-shrouded peaks of the mountaintop with roadside shacks named "Shangri-La" and "Heaven's Gate". Then… down the mountainside he careens … hurled by centrifugal force along rubberband, hairpin turns where he sees his whole life flash before him. He ends up in the rain forests of Thekkady, amidst the wild animal preserves and the silver shops of Kashmir.
Music by Kevin MacLeod
http://www.freemuiscarchive/music/Kevin_MacLeod
Thanks so much!
No time stamp on this episodes. Please listen to the whole thing; it's less than 20 minutes long. Each "e-travels" episode is a narrative story, live from the field, with original music and immersive sound design. Please put on some nice head phones or ear buds, relax, and take the journey with Trules.
Enjoy and Happy Trails…..
Tweetables
Support the Podcast
Please subscribe, rate, and review the Podcast on iTunes, by clicking the iTunes logo on the top right of this page. It really helps establish the podcast with Apple. Thanks so much!
Any trouble navigating iTunes? Please go HERE for an easy-to follow VIDEO.
As you might imagine, putting on a biweekly podcast of this caliber, with original music and sound design, really depends on the support of our community of listeners. If you feel so inclined, or you know anybody who would like to support the podcast, we would sincerely appreciate it. Here is the link to donate.
And contact Trules with any questions or comments, and to ask to join him on "Behind the Scenes".
Additional Credits
Sound design by Alysha Bermudez.
Music composed by Amanda Yamate.
Produced by Harry Duran at FullCast.
Supported by a USC Capstone Grant, with special thanks to Professor Phil Allen, Director of the Sound Design Program at USC's School of Dramatic Arts.