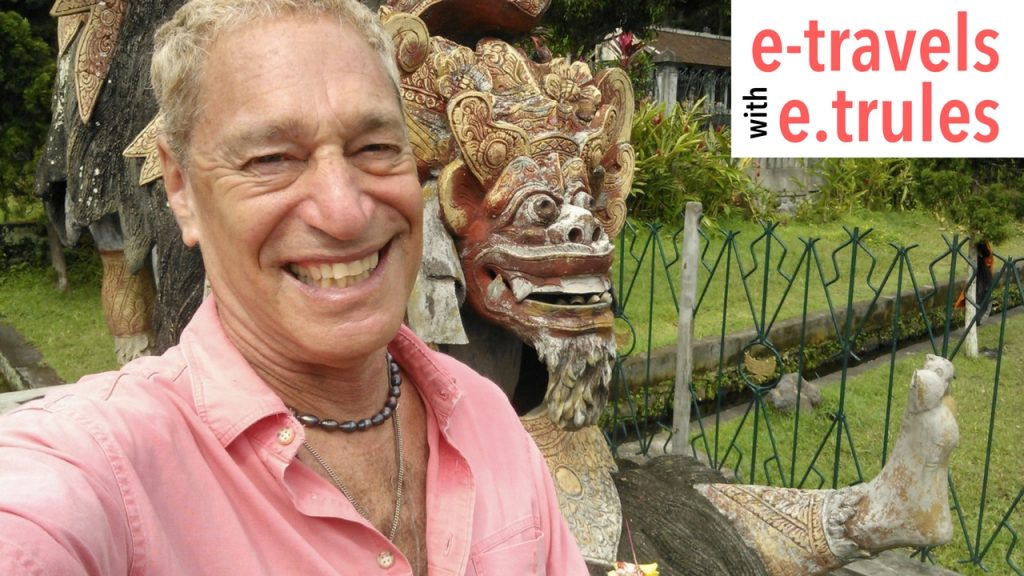 Listen Now
Summary
Like to travel? Like to listen to travel tales from well off the beaten path? Well then, you've come to the right place…
"e-travels with e.trules" is a new, personal, idiosyncratic, and literary podcast created by Eric Trules, a longtime Huffington Post blogger and theater Professor at USC in Los Angeles. Trules has traveled our beautiful and problematic planet for decades, staying in Bedouin huts on the Red Sea, riding the rails to "Nose of the Devil" in Southern Ecuador, and meeting his future Indonesian wife on the magical island of Bali.
"Episode 0", the podcast's maiden voyage and raison d'etre, is a "sampler" of the upcoming shows. With original music by Amanda Yamate and immersive sound design by Alysha Bermudez, this episode takes the listener to the Bedouin Sinai Desert in 1999, to the pristine east coast of Bali, Indonesia in 2014, and to the island of Borneo back in tribal days. It philosophizes about "why we travel" and talks about the origins of the podcast from Trules' e-mails to friends from small internet shops in Southeast Asia.
If you like to travel vicariously, or be provocatively reminded of your own travel adventures, and misadventures, listen to these entertaining and personal stories from around the globe. New episodes will be released once a month on iTunes, with "Behind the Scenes" episodes two weeks later.
Support the Podcast
Please subscribe to, rate, and review the Podcast on ITunes,.. by clicking the iTunes logo right on this page. It really helps establish the Podcast with Apple. Thanks so much.
Any trouble navigating iTunes, please go HERE for an easy-to follow VIDEO.
As you might imagine, putting on a biweekly podcast of this caliber, with original music and sound design, really depends on the support of our community of listeners. If you feel so inclined, or you know anybody who would like to support the podcast, we would sincerely appreciate it. Here is the link to donate.
And contact Trules with any questions or comments, and to ask to join him "Behind the Scenes".
What We Covered
Tweetables
 _______________________________________
Here are some recent Reviews and comments on iTunes:
"Between the music, sound design and pleasant low rumble of Trules' voice, this is a podcast that will satisfy that craving for a story that lets you live by your mind's eye."
From listener, Irma Gerd, who I don't know. But that's part of the joy of podcasting, isn't it?
And here's another one by DeaneSullivan18:
"Trules has a wonderful quality of engaging his listeners, where he will transport you from your living room couch to vast corners of the world."
Please write one of your own, and
HAPPY TRAILS…
Additional Credits
Sound design by Alysha Bermudez.
Music composed by Amanda Yamate.
Produced by Harry Duran at FullCast.
Supported by a USC Capstone Grant, with special thanks to Professor Phil Allen, Director of the Sound Design Program at USC's School of Dramatic Arts.