Trules is a native of New Yawk City and has been an artist for almost 50 years! Currently, he blogs for the Huffington Post and the Cultural Weekly, and he has a new travel podcast called "e-travels with e. trules". In former lives he has been a modern dancer, solo performer, theater director & producer, poet, documentary filmmaker ("The Poet and the Con"), and professional clown. He ran for Mayor of NYC as clown candidate, Gino Cumeezi, in 1977 against Ed Koch, and finished 5th out of 4 candidates!
He is currently an Associate Professor of Theater Practice Emeritus at USC's (University of Southern California's) School of Dramatic Arts, from where he just retired after being a faculty member for 31 years. He has been a Fulbright Senior Specialist in American Studies (Theater, 2008-13) and an Allen Ginsberg Poetry Award winner. "Trules", as he known to his friends and colleagues, attempts to change the world, one student and one story at a time.
He is also a TEDx speaker on creativity and self-expression. See his talk "Jumping on the Train of Opportunity"
Trules met his Indonesian wife, Surya, on the magical island of Bali in 2000. They married on Valentines Day 2003 and brought their 8 year old nephew, Exsel, to LA from Sumatra in 2015. They officially adopted him in July, 2016. So although Trules is retired from USC, he now has a new full time job: being "Mr. Mom". He likes it.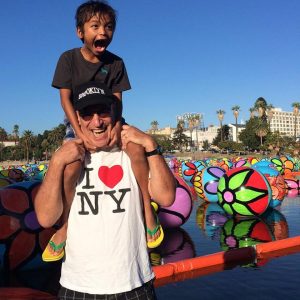 See his full Bio, CV, and other groovy information in the sub-menus of "About Trules".
——————————–
The LA Times has said about Trules' work:
"Trules is an original. He turns his vivid writing into dark/comic lacerations building to the cosmic. His work reverberates with grit."
And the Edinburgh Scotsman:
"Trules is an accomplished writer; he has both a feel for contemporary idiom and a poetic imagination that echoes the great American playwrights."