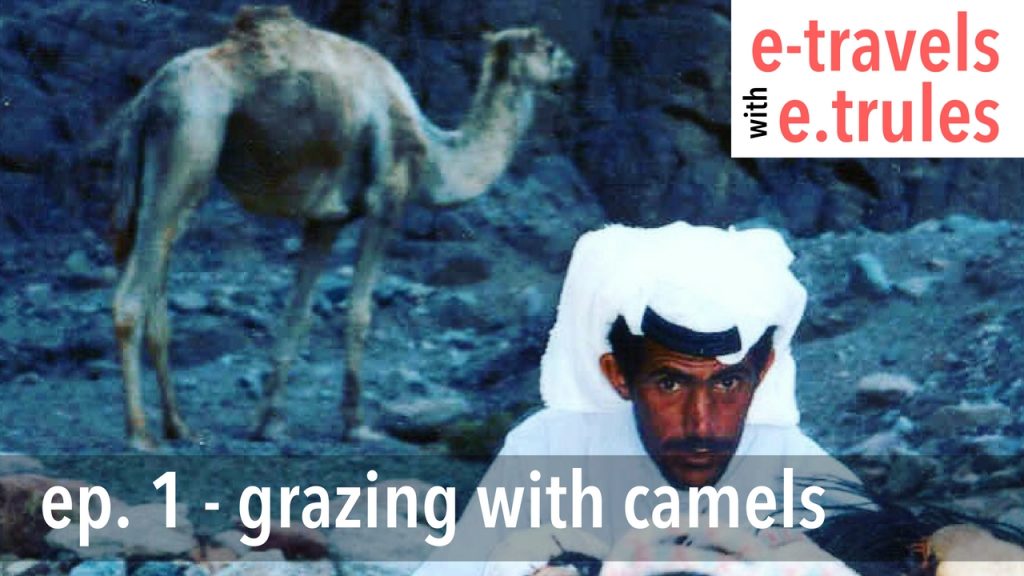 Listen Now
Where's the Where?
Israel, 1999. Trules ventures south from Jerusalem, crossing the Israeli-Egyptian border at Eilot. He makes camp at "Ras Es Satan", Head of the Devil, sleeping in a primitive "chousha", just feet from the Red Sea. He swims with the neon-lit fishes and organizes a 2 day camel safari, overnight into the Sinai Desert, home of Moses, Joshua, and the first tribes of Israel.
His guide is swarthy Bedouin, Adnan, and after learning how to make a camel both run and sit, Trules presses on into the harsh and beautiful desert. Is that a mirage he sees? Or an oasis? He ruminates over the price we have paid for civilization's comforts, wondering if we have lost our respect for nature, and our connection with our own humanity. The episode ends with Trules' own remedy for peace in the Middle East.
Music by Anello Capuano.
Thanks so much!
In This Episode
Tweetables
Support the Podcast
Please subscribe, rate, and review the Podcast on iTunes, by clicking the iTunes logo on the top right of this page. It really helps establish the podcast with Apple. Thanks so much!
Any trouble navigating iTunes? Please go HERE for an easy-to follow VIDEO.
As you might imagine, putting on a biweekly podcast of this caliber, with original music and sound design, really depends on the support of our community of listeners. If you feel so inclined, or you know anybody who would like to support the podcast, we would sincerely appreciate it. Here is the link to donate.
And contact Trules with any questions or comments, and to ask to join him on "Behind the Scenes".
Additional Credits
Sound design by Alysha Bermudez.
Music composed by Amanda Yamate.
Produced by Harry Duran at FullCast.
Supported by a USC Capstone Grant, with special thanks to Professor Phil Allen, Director of the Sound Design Program at USC's School of Dramatic Arts.