Mark Eagle

February 4, 2018 by Tallmarkone from United States

e-travels with e. trules is a very informative and entertaining podcast about Mr. Trules travels across our planet over the past many years. But it's more than just that. It's also about his life beginning in New York and how he created a life for himself, his wife and now their adopted son in the Echo Park section of Los Angeles. What's especially enjoyable about his accounts of his life is not just what's going on in the present but also the historical knowledge he imparts with a sense of humor. He probably remembers Gene Shepard from many many years ago on WOR A.M. Radio in New York City and I as a young child back then would listen to him on the equivalent of podcasts back then. Younger people may recall the movie "A Christmas Story" and the famous saying about not getting a Bebe gun because he will shoot his eye out. Well that was written by and voice overhead by Gene Shepard. Mr. Trules has a similar ability to tell a good story and to do so in such a way as to bring you right there. I only recently discovered podcasts and this has got to be one of the best ones out there!

Great show, if you love travel, you will love this

July 5, 2017 by Young free and coupled from United Kingdom

Well worth a sub, DO IT NOW, i did!

A mind-expanding guide of the world

June 30, 2017 by Keltonboy1755 from United States

Listen to this podcast and the man who makes it. He will rekindle your desire for adventure, knowledge, and just maybe teach you how to catch a ride on the train of opportunity.

A truly unique travel podcast

May 27, 2017 by fevkalade11 from United States

I love travel and foreign cultures, and it was great to find a podcast that adds an entertaining, offbeat angle to a genre that can quickly become stale. Highly recommended.

Amazing!

May 9, 2017 by Karileed from United States

If you love travel you will certainly love this podcast! Eric is an amazing story teller and he will transport you to another world every time. I definitely recommend this podcast to all travel lovers.

Impressive and addicting!

February 14, 2017 by JenniferRendel12 from United States

This podcast transports me evey episode to a entertaining adventure that lets me leave my current reality and allows me to see this crazy world as told by the euthusiastic, talented, and engaging storyteller, Eric Trules. I find his travel stories enlightening and very relaxing to sit back and listen to. Besides Trules mastery of telling his stories, the podcast is well-produced with excellent audio and sounds that help in making this such an addictive listen. Can't wait for more!

Love and the Devil's Nose

February 10, 2017 by Angelesgirl from United States

This was a delightful and entertaining narrative. I tuned in thinking it was a podcast about one of Eric's wild travels only to find out that this was a piece about marriage, and a damned good one at that.

Crafted with a love of travel

February 6, 2017 by jinki1 from United States

Love the story telling aspect of the early episodes: the score, the performance. It's really engaging. As a podcaster, I love the behind the scenes episodes as well. Looking forward to where this show will go!

An auditory treat

January 30, 2017 by phillytonicaragua from United States

Trules' voice and the sound design make E-travels with E-trules a lovely soundtrack when working. His stories will transport you to another world while you tap away at your cubicle. I hope he post more and more often! Highly recommend.

Truley Great

January 19, 2017 by Rain17 from United States

Love the interplay between discovering new places in the world that are ancient and making new personal discoveries. Yes, he's crazy to be taking some of these trips, but what else is new? He's being truly Trules. His inner clown is always smiling. Thanks a bunch. Mark Berger and Rain Worthington

An aural E-venture

January 8, 2017 by Soulfulwon from United States

A great listen. Transported me. Looking forward to more!

This show rocks!

January 2, 2017 by craigcbrown from United States

I love it! 5+

The Voice

December 20, 2016 by TravelwithGrace from United Kingdom

I was lucky enough to be in Echo Park, Los Angeles this November and heard some of Eric's podcasts before they were even available on itunes. He has the perfect pitch and tone of the seasoned traveller and raconteur, I slipped comfortably away and was lost in distant lands and times.

Storytelling at its finest

December 20, 2016 by i save a lot from United States

A real treat to hear Eric's voice among hoards of podcasts out there. His point-of-view, cadence, and energy makes for trascendent listening. LOVE it!

Got Me Yearning to Backpack Again

December 15, 2016 by Speaking247 from United States

Trules has such a great radio voice. Truly enjoyed the podcast, as it got me yearning to backpack again. Really high-quality production, with great music (and I dig the whistling at the end).

Wonderful storytelling from an incredible, iconoclastic, ramblin professor.

December 12, 2016 by Trevor M Davis from United States

Eric Trules is a natural born storyteller. He also happens to be an ever-searching, wonderfully curious, thoughtful and profound individual, with a unique perspective on the wide world -- a world which he's circumnavigated far more than I could even imagine. Though, after listening to his podcast, it's inspiring me to attempt to catch up someday and ramp up the timeline on my exploration of this mysterious, beautiful world. As much as the travel adventures are wonderful to hear on their own though, the real treasure here comes in his thoughtful reflection on humanity in its many garments and idiosyncracies. He certainly could have been a cultural anthropologist if he didn't become a theatre professor...but I'm glad he went toward the stage; now we get the benefits of his runminations on humanity through the vessel of a uniquely gifted, entertaining storyteller. I've seen him perform many times, but this podcast is a great reminder of how much character and warmth his voice carries with every phrase as a trained performer. Trules is a cultural treasure, and I can't wait to hear more installments of this powerful travelogue.

Tules trancends travel triumphantly

December 12, 2016 by gijjiu from United States

The podcast is a delightful medley of travel, history, and Trules! His voice over the music and sound makes it easy to picture the fantastic stories.

Deeply Immersing

December 9, 2016 by Billyhc from United States

The storytelling is as hypnotic as the music.

If you love traveling, this is your jam!

December 6, 2016 by MMMMM12345MMMMM from United States

For those who love traveling but don't get to do so as often as you wish, this is the go-to podcast!

Great Podcast!

December 5, 2016 by SirScottMullin from United States

Eric creates a sense of place like no one else. I felt like I was right there alongside him on all these amazing journeys. What an experience!

Love it

December 5, 2016 by PouxDawg from United States

Love, love, LOVE this! Inspires me to keep exploring the world with our new little family addition. Great first episode.

Emerging show!

December 5, 2016 by SF1994yes from United States

Trules has a natural knack for storytelling, and exploration. Looking forward to the new show!

Well-produced, personal insights about the world

December 2, 2016 by S. Wedeking from United States

The widely traveled Trules is also a gifted writer, performer and teacher — and this podcast benefits from all those talents

He tells it "Trully..."

December 2, 2016 by MoondogMulv from United States

Trulles is a unique, funny, and intelligent guide in the world of travel, life, and love.

Rich and Textured Storytelling

December 1, 2016 by Irma Gerd from United States

Between the music, sound design, and pleasant low rumble of Trules' voice, this is a podcast that will satisfy that craving for a story that lets you live by your mind's eye. In the introduction of the podcast, Trules begins laying down the different stories and inspirations that he has quilted together over his life. From his natural curiosity in history to his appreciation for the unforeseen, you get the sense that Trules has a narrative that bridges his personal discoveries with the shifts the world has undergone throughout his life. I'm looking forward to seeing how these stories flesh out. I can tell that we're in for a treat.

Great Podcast

November 30, 2016 by Tucci1776 from United States

Really great and entertaining podcast. Hooks you from the first episode.

Great Travel Podcast

November 30, 2016 by PodcastJunkies.com from United States

I'm very impressed with the content in this first episode and can't wait to hear more of Eric's stories.

Travel for All!

November 30, 2016 by deanesullivan18 from United States

I am thrilled that I came upon this podcast. Trules has a wonderful quality for engaging his listeners, and will transcend you from your living room couches to vast corners of the world. The podcast's professional quality, coupled with Trules' creativity and natural skill for storytelling, will keep you coming back for more. It's a must - can't wait for more!

Impressive and Entertaining!

November 29, 2016 by SpeedwayCJ from United States

Based on the promo episode of this show, I've subscribed and am definitely looking forward to more! This podcast is extremely well-produced, with audio that excites and amuses. I love the concept of unique, personal and engaging travel stories from the host's real-life experiences, combined with audio scapes that bring listeners directly into the story. I have a feeling this show will be one to keep an eye on, as it holds a great deal of promise for future success. Can't wait to hear the many places Eric Trules will take us!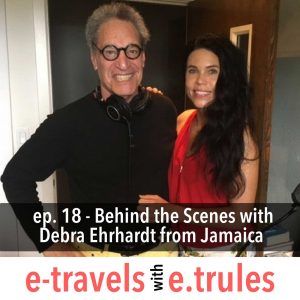 You're in for a treat: hearing excerpts from Debra's 1 woman show that has traveled the world, "Jamaica Farwell", in which she escapes from Jamaica to America with 1 million dollars – in cash!
Listen Now
Who's the Who?
Welcome to the last Behind the Scenes episode of Season 1 on the "e. travels with e. trules" podcast… where I'll be talking with my friend and fellow solo performer, Debra Ehrhardt, who is native of Jamaica.
I know, I know, it's hard to come to a halt in production after 40 weeks of bi-weekly podcasts, especially after last month's listenership again increased by significant hundreds. But… this will only be a pause in the podcast as I raise funds for Season 2 (hint! hint!), upon which we are already deeply into production. More on that later…..
But now to this Episode and Debra Ehrhardt.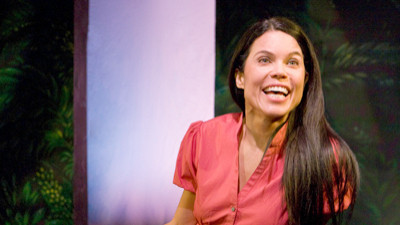 Growing up in hard-scrabble Kingston, ever since the age of 7, Debra dreamed of coming to America…. with its wonderful theme parks, candy stores, and tall buildings that pierced the sky. By the time she was 18, she had arrived here, to the Land of Opportunity. But how she got here… was the miracle… that she wrote about, in her triumphant one woman play, Jamaica Farewell, which she has performed and toured all over the world for the last many years.
Even though it's in the news quite a bit these days, many Americans and first world people all over the planet, have no concept of the barriers that lie in the way of immigrants who try to leave their third world countries. As Debra says, "many have a better chance of getting to the moon". Debra's father was an alcoholic and a gambler, making her childhood unpredictable and tumultuous, especially when her father had a bad night playing poker. Her religious and devoted mother blamed it on the Devil, her grandmother blamed it on her daughter, Debra's mom, and Debra just imagined herself away from it all, living a fairy tale somewhere in Disneyland next to Cinderella and Sleeping Beauty.
But she always believed "that if you can dream it, you can achieve it". Unlike in Jamaica, where a person's class and economic status determines their destiny, it was America's intoxicating hope of a better future – that lured Debra into a life-threatening escape over the uncrossable oceans – with a smuggled suitcase of 1 million dollars… that landed her in Miami… with the promise of a new life… in the United States of America. Jamaica Farewell  is the story of Debra's funny and miraculous journey from Kingston, Jamaica to shores of America… that captures… perhaps the most adventurous and defining moments of her life.
And you're a lucky podcast audience, because Debra's has shared a few excerpts from the show, Jamaica Farewell with us in the interview.
Just click the ARROW below "LISTEN NOW" at the top of these show notes, to listen to Episode 18, "Behind The Scenes with Debra Ehrhardt from Jamaica".
As I said, the podcast's listenership almost doubled again last month in July, and I was invited to be a guest on several more podcast shows.
People are also listening to the e-travels "Library" of back episodes, a little like bingeing on your favorite TV show.. So THANK YOU for listening and coming to these show notes. Please leave your COMMENT FOR THIS SHOW below.
And to listen to any of the previous 18 Episodes and leave your COMMENTS, please go HERE.
In particular, please listen to the last Episode, "The Mighty Mekong", to take a rollicking, very off-the-beaten-path, series of mis-adventures with me into Southeast Asia, culminating with a beat poetry, diesel-puffing, boat ride up the Mighty Mekong River in northern Thailand to Southern Laos… where I go looking for mad Mr. Kurtz from Joseph Conrad's "Heart of Darkness" and Francis Ford Coppola's "Apocalypse Now".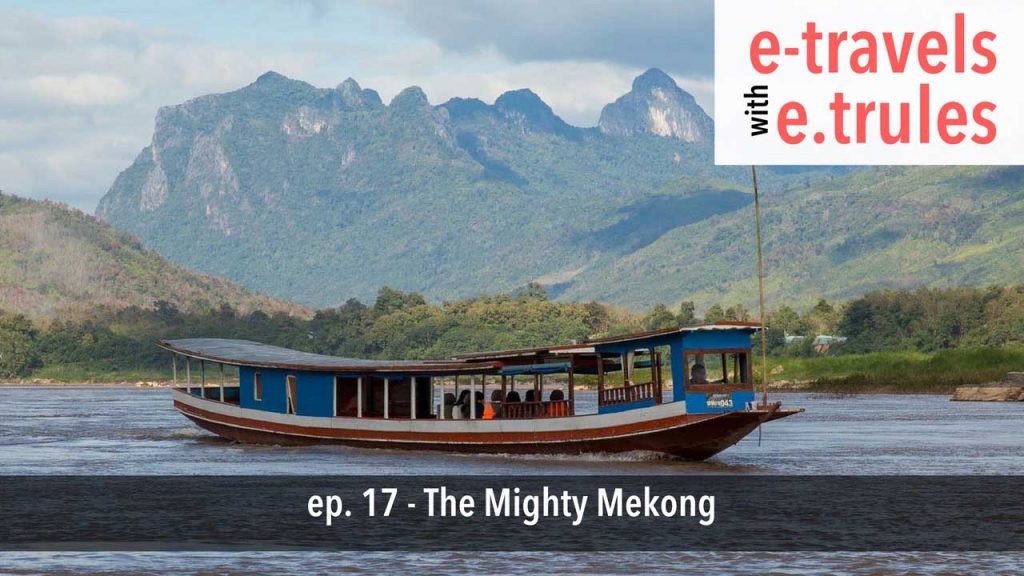 Enjoy the podcast with some good earbuds or headphones. Subscribe, rate, and review the show on iTunes (now Apple Podcasts) HERE, and please go to this easy to follow VIDEO if you need some technical help with iTunes.
Most importantly, share the podcast with ALL your friends! Remenber, the podcast grows…. one listener at a time… and YOU make that happen!
SUPPORT THE PODCAST
As I mentioned above, this is the last Behind the Scenes Episode of SEASON 1, and we still need funding for SEASON 2.
In the next Episode, "End of Season 1 with a "Tear'", I will offer some very specific DONATION OPTIONS.
But in the mean time, if you feel so inclined, or you know anybody who would like to support the podcast, I would greatly and sincerely appreciate it.
HERE is the link to donate.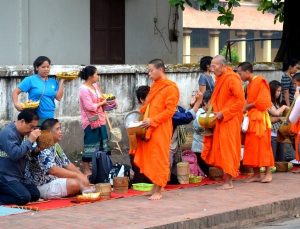 Please contact me with any questions or comments HERE.
Best from Echo Park,
And Happy Trails…..
Trules
______________________________________________________________
The Podcast is made possible with a USC Capstone grant, with generous support from Professor Phil Allen and the Sound Design Program at USC's School of Dramatic Arts. With original music by Amanda Nicole Yamate and sound design by Alysha Bermudez. This episode was recorded by Scott Barber at the Barber Shop Recording Studio, also right here in in Echo Park, LA, CA. Produced by Harry Duran at FullCast.
_____________________________________________________________
What We Covered
0:01
– Weekly Intro, Music by Amanda Yamate
0:26
– Intro, Bio, and Welcome of Debra, Ehrhardt, who has lived a "fairy tale" life after escaping from dead-end Kingston, Jamaica, to the Land of Opportunity, the United States of America
4:43- Debra talks about growing up "poor" in Kingston, Jamaica: no electricity, no food, no Dad, and learning how not to take "no" for an answer
6:53 – Trules on how Debra's immigrant story resonates with his wife's own: coming from from a 3rd world country to the Land of Opportunity
8:37
– Debra talks with humor about the class system in Jamaica compared to the freedom in America – via the story of a poor Jamaican maid who married an American Peace Corps volunteer who miraculously took her out of her class in Jamaica.
11:50
– Debra reads an excerpt from her 1 woman theater show, "Jamaica Farewell" – about the afore-mentioned Veronica, the maid, now an Assistant Professor driving a red Mercedes in America
13:56
– Trules ask Debra about his observation of Jamaican women and their transformation from sexy adolescents to apron-bound matriarchs
17:24
– Debra talks about growing up with Jamaican religion which she feels feeds into the island's belief that men can do anything they want and women don't have enough self esteem to challenge them.
19:00
– Debra tells the story of climbing a mango tree when she was 9 years old and seeing her grandfather, the one man she truly admired, with another woman, which only gave her more desire to get away from Jamaica.
20:30
– Trules speculates on the powerful transformation of women in America via the book, "The Decline of Men and the Rise of Women"
22:50
– Debra talks about the evolution of women, both in Jamaica and America, where she believes the country wasn't quite ready to see Hillary Clinton break the "glass ceiling".
25:43
– Trules talks about being "Mr.Mom" himself, switching roles with his wife in the workplace.
27:08 – Trules on his time in Jamaica in 2009 
29:20
– Debra on the laid back generosity of the Jamaican people, compared to the stressed-out, driven people of America, with the concept of time being so different.
33:35
– Debra talks about her current show, "Cock Tales, Shame on Me", about her sexual journey from shame & abuse in Jamaica to sexual freedom and expression in America
38:45
– Debra takes the "Trules Travel Quiz":
Her "favorite place in the world": Strawberry Hill in Jamaica, New Orleans, Louisiana
"What does it mean to be a traveler?"
47:07
– Debra reads a final excerpt from Jamaica Farewell, about the moment she finally arrives in America, passing through Customs with 1 million dollars in cash
52:00
– Wrap up, contact info for Debra Ehrhardt and "e-travels with e. trules"
52:58
– Closing credits
Tweetables
Production Credits
Sound design by Alysha Bermudez.
Music composed by Amanda Yamate.
Recorded by Scott Barber at the Barbershop Sound Studio in Echo Park, Los Angeles, California
Produced by Harry Duran at Fullcast.
For more information on Debra Ehrhardt, please go to her website HERE.